NEW TOOL KIT: Two Ways to Collect COVID-19 Specimens
Use these handy resources to learn how to properly swab and transport Coronavirus (COVID-19) Specimens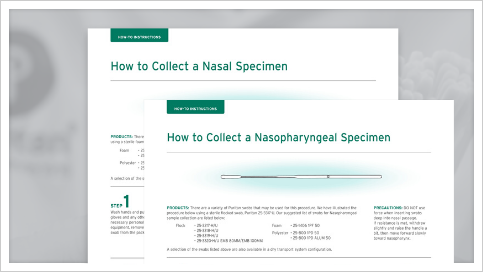 Did you know there's more than one way to take a COVID-19 sample? Knowing more than one method can increase flexibility and help you meet testing demand.
Download this FREE new toolkit, to get detailed how-to instructions for taking both nasal and nasopharyngeal samples. These are particularly helpful because each type of sample collection requires different supplies and different methodology.
In this free Puritan COVID-19 Testing Toolkit, you'll get these two brand new resources:
How to Collect a Nasopharyngeal (NP) Specimen

How to Collect a Nasal Specimen
You'll learn:
How collecting a specimen from the nasopharynx differs from the nares

The four critical steps for taking each type of specimen

Which Puritan swabs to use for each type of test
These up-to-date materials are informed by the latest information released by the FDA on how to collect specimens and which swabs are acceptable.
Download the COVID-19 Testing Toolkit Now