Infographic: How to Collect a Nasopharyngeal Specimen
Want to find out how to take the most accurate nasopharyngeal (NP) specimen?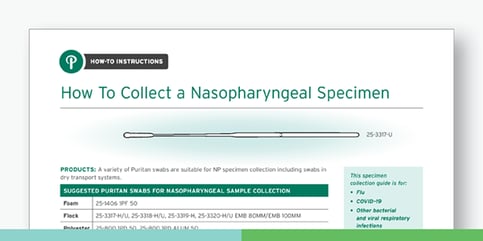 Reaching the nasopharynx to collect a sample is not an easy feat! With this FREE infographic, you'll get detailed how-to instructions to help ensure accurate results with minimum patient discomfort.
Download this useful infographic today to learn:
The four easy steps to taking a nasopharyngeal specimen

Ways to know if you're doing it correctly

Tips for best results like how to access the nasopharynx

Which Puritan swabs to use for collection
This handy guide is a useful update for seasoned pros and a quick how-to guide for those newer to testing.
Download How to Collect a Nasopharyngeal Specimen Now>