How to Collect A Throat Swab Specimen
The Easy, Printable Throat Swab Reference Guide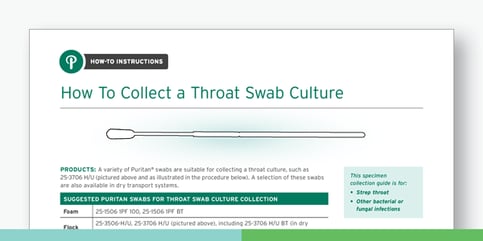 Your Comprehensive Guide to Accurate Strep Throat and Bacterial Infection Testing
Whether you're a healthcare professional, a clinic manager, or simply interested in precise bacterial infection testing, our step-by-step visual guide is here to empower you. Say goodbye to guesswork and ensure accurate results every time.
Improve Your Throat Swab Collection Technique
Our comprehensive guide takes you through the exact steps needed to collect throat swab cultures. Throat swabs are crucial for diagnosing strep throat and various bacterial infections. With our guide, you'll not only master the technique but also discover recommended swab products for reliable results.
The Benefits of Our Step-by-Step Throat Swab Guide
Precision Handling: Our guide ensures precise specimen collection, reducing the likelihood of false results.
Ease of Use: Clear visuals and simple instructions make this guide suitable for everyone.
Expert Recommendations: Discover our recommended swab products for enhanced accuracy.
Versatility: Suitable for strep throat and various bacterial infections.
Don't miss the opportunity to enhance your throat swab culture collection skills. Download our guide today and make a difference in bacterial infection testing.
Get Your Copy of the Guide