How to Collect A Throat Swab Specimen
Download this handy reference for proper throat swab specimen collection!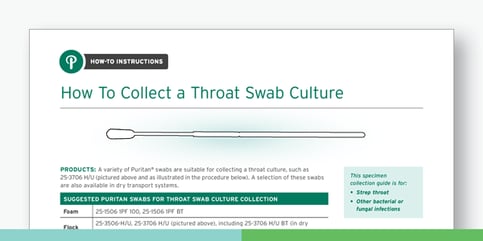 Need a handy, printable reference guide on how to collect a throat swab specimen? This step-by-step visual infographic is perfect for healthcare providers, mobile clinics, and more. Using the latest reference materials from the CDC, this expert reference guide shows you exactly how to complete the throat swab test.
A throat swab culture is the easiest way to test for and diagnose bacterial infections.
Collecting a throat swab culture is a simple procedure - but it's a precise one. Just fill out the form to make sure you get it right by following our step-by-step infographic.
Download this infographic as a FREE pdf
Easily print as a handy reference guide
Email to colleagues, friends, or clients!
Puritan's step-by-step infographics have been downloaded and utilized thousands of times. Simply fill out the form to get instant access!