Printable PDF: How to Swab for the Flu. A Handy Reference for Proper Influenza Sample Collection.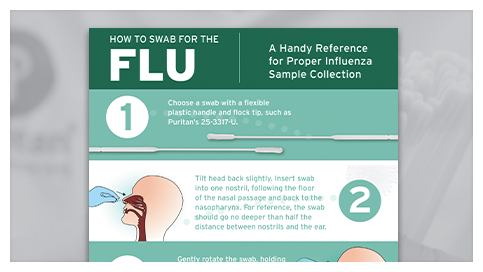 Do your clients often ask, how is a flu swab done? This printable PDF guide is perfect to print or email to colleagues and clients.
Puritan Medical Products is a leader in flu swab production.
The six-step flu swab process PDF features:
An easy-to-read outline of how to perform a nasal swab flu test
Clear images of the nasal passage
Examples of swabs to use for flu testing
Are you running a flu testing clinic this season? Let your clients know exactly what to expect with this handy reference guide.

Join the 800+ people who have downloaded this infographic! Get your copy today.