Essential Guides for Vaginal and Penile Specimen Collection
Mastering STD and STI Specimen Collection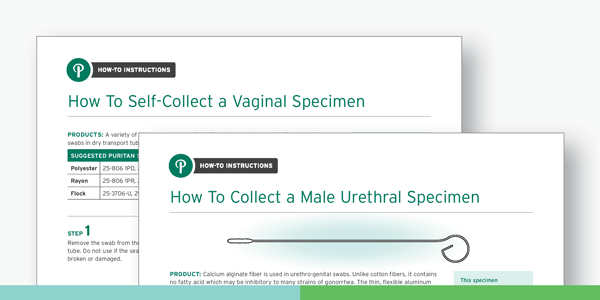 Looking for comprehensive how-to guides for male urethral and vaginal specimen collection? You've come to the right place.
We've combined two vital resources for STD & STI testing professionals and clinics.
Whether you're a healthcare provider, a clinic manager, or someone new to STD specimen collection, our comprehensive visual guides are here to empower you. Ensure precise and reliable results with these indispensable references in your toolkit.
Vaginal Specimen Collection Guide
Perfect Your Vaginal Specimen Collection Technique
Our visual guide takes you through the exact steps needed to collect vaginal specimens for STD testing. Ensure patient comfort and sample integrity while achieving accurate results.
Urethral Specimen Collection Guide
Master Penile Urethral Specimen Collection
Our guide provides step-by-step instructions for collecting penile urethral specimens with precision. Ensure proper technique for accurate STD testing results.
The Benefits of Our Step-by-Step STD & STI Testing Guides
Accuracy: Our guides ensure precise specimen collection, reducing the likelihood of false results.
Ease of Use: Clear visuals and simple instructions make these guides suitable for everyone.
Comprehensive: Cover both vaginal and penile urethral specimen collection for comprehensive STD testing.
Valuable References: A must-have addition to any STD testing toolkit.
Don't miss the opportunity to enhance your STD specimen collection skills. Download both guides today and make a difference in STD and STI testing.
Download Your STD Swab Testing Toolkit Now