Your One-Stop Resource for the Coronavirus Outbreak.

How Puritan Is Responding to COVID-19
As a leading manufacturer of COVID-19 testing supplies, Puritan is working virtually nonstop to produce and rush supplies to the testing and medical professionals who urgently need them.
This tremendous surge in demand for COVID-19 swabs and transport systems has resulted in inventory and order delays for many of our products at this time. We appreciate your patience and thank you for your understanding during this extraordinary time.
Front-Line COVID-19 Resources
As a trusted source for testing supplies, we're in close contact with government agencies and the Coronavirus White House Task Force gathering the latest information on COVID-19. Here are our recommended resources to help with coronavirus testing.
What is Coronavirus (COVID-19)?
Coronavirus is a type of virus that causes respiratory illness, an infection of the airways and lungs. While COVID-19 is a new strain of coronavirus, it's part of the same family of coronaviruses that includes the common cold.
Coronavirus Testing Supplies
Puritan's UniTranz-RT® (Universal Transport Systems)

Puritan's UniTranz-RT is intended for the collection and preservation of viruses (including COVID-19), chlamydia, mycoplasma, and ureaplasma specimens. Our kits ensure the safe transport of clinical specimens when immediate testing is not available. Used in viral antigen detection tests, PCR and rapid tests.
UniTranz-RT meets the CDC's interim guidelines for collecting, handling and testing clinical COVID-19 specimens from persons of interest.

For initial diagnostic testing for COVID-19, CDC recommends collecting and testing an upper respiratory nasopharyngeal swab (NP). NP specimen is the preferred choice for swab-based COVID-19 testing. When collection of a nasopharyngeal swab is not possible, the following are acceptable alternatives as updated by both the FDA and CDC:

oropharyngeal specimen collected by a healthcare professional (HCP);
mid-turbinate specimen by onsite self-collection or HCP (using a flocked tapered swab); or
anterior nares specimen by onsite self-collection or HCP (using a round foam swab).

Puritan's UniTranz-RT® with synthetic fibers and plastic shafts, like our flock swabs, can be used for nasopharyngeal and oropharyngeal collections when 2019-nCoV is suspected.
It's important NOT to use calcium alginate swabs or those with wooden shafts as they may contain materials that interfere with test results.
The tubes used for transport should be sterile and contain 2-3 ml of viral transport media.
For those patients with productive coughs, sputum samples might be collected and used for testing.
Recommended Products:
Puritan Nasopharyngeal (NP) Swabs
Flock
Foam
Polyester
Puritan Oropharyngeal (OP) Swabs
Flock
Foam
Polyester
Additional Flock Swabs:
*NOTE: All Puritan UniTranz-RT®, Opti-Swab® Liquid Amies collection and transport systems, and Sputum medium are considered final sale, no exceptions. Thank you for your understanding.
How To Collect a Nasopharyngeal Swab Specimen
Coronavirus Featured Articles & Real-Time Map of Current Cases
CDC Resources
COVID-19 Questions
Need additional information on Puritan COVID-19 products?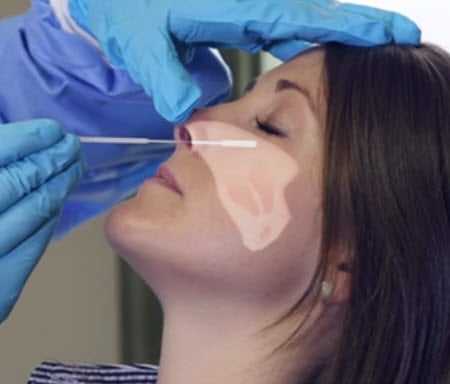 Please Note: Because news about COVID-19 is particularly fluid, we will update this portal as information becomes available.